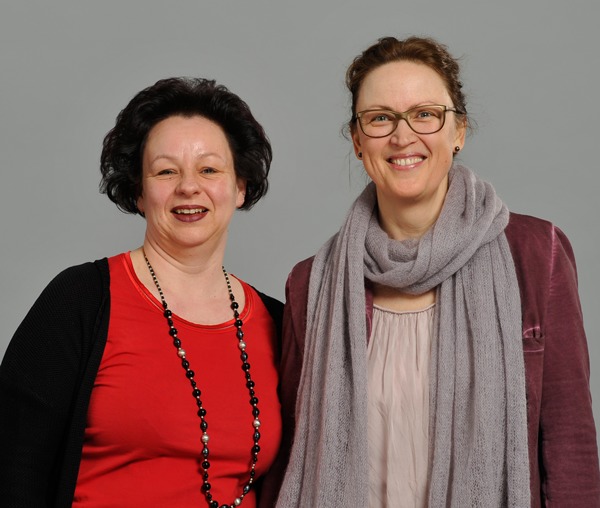 Britta Haiker & Dagmar Behrens

Position: Backoffice Staff

Part of the company since: 2000 / 2008

Company: PROMOS consult

Britta Haiker and Dagmar Behrens are the two receptionists of PROMOS. In this interview they introduce themselves and talk about their tasks at the office.

Interview
Hello Britta and Dagmar! Since when are both of you a part of PROMOS and how did you even take notice of PROMOS?
Britta: I´m here since 2000. Back then I applied the old fashioned way through an newspaper advertisement [laughs]. Only within the next two weeks I was recruited.
Dagmar: And I´m here since 2008. In my case it all happened in no time as well. Within a week I was a part of PROMOS!
Britta, do you remember your starting time at PROMOS?
Britta: Well at first I was only the personal assistant of Jens. Little by little I worked my way into it. But PROMOS has grown very fast. Pretty quickly it was my job to support all employees. We´ve only grown into an independent department in the past couple of years though.
And what is your field of duties today?
Dagmar: That´s various. We are managing for example the office stock. We have to check which consumable supplies are still in stock and which supplies have to be ordered. Besides that, we are managing travel bookings of our consultants – whether rental cars, flights, train rides or hotels. Supporting the consultants, it´s also our tasks to manage parts of the correspondences. The incoming and outgoing mail and the invoice receipt process belongs to our job as well.
Britta: Yes, it´s really a very diverse field of duties. In the morning we usually don´t even know what´s going to expect us during the day. Many tasks arise out of incoming calls and mails.
Could you say you´re the "good souls" of PROMOS?
Dagmar: [smiles] Well, the office is the place to go for all kinds of concerns. If someone´s got a problem he or she comes to us. And of course we´re trying to solve the problem the best we can. Sometimes it´s just little things, like a broken lamp or an empty toner.
Britta: Also we always need to have an overview on everything needed to be done. And we´re always happy to help. Sometimes colleagues are coming to us and just want to talk for a bit or want to dump their worries. We always have a sympathetic ear.
Are you some kind of a poster child for PROMOS outwardly?
Dagmar: In a way yes. We are taking care of e. g. the guests of PROMOS. That means, we´re preparing the conference rooms, we´re welcoming guests and we´re taking care of food and service.
Britta: And we´re also taking many calls. Though, you can´t call us the typical phone bank anymore. In the past it was mostly communicated through us. But that has gone into the background in the past couple of years. Especially because our consultants are all available on the mobile phones or direct dial numbers.
Would you say you like coming to work every day?
Dagmar: Mostly yes [laughs].
Britta: Yes, actually I do. As soon as you´re here the hustle and bustle gets to you really fast anyways. And we´ve also got three apprentices, who help us a lot.
Dagmar: And it´s nice, that we can divide the work needed to be done. That way both of us can mostly do what they like. For example, I love to take care of bookings and Britta is expert for anything concerning catering. So we´re done with the work in no time!
Thank you so much, for taking your time for this interview today.
Beide: You are welcome.