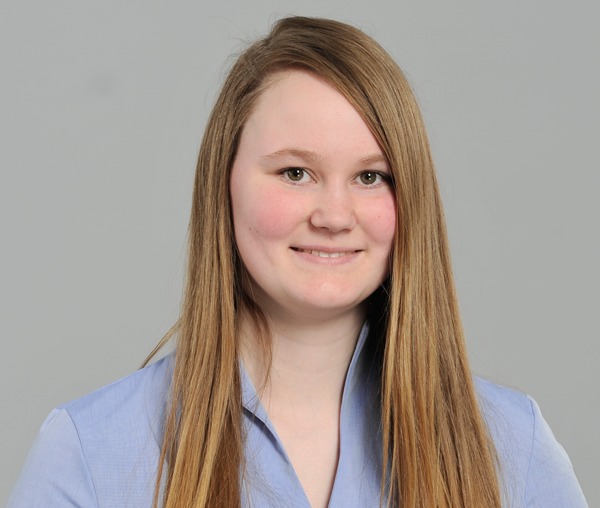 Janette Wesselow
Position: Junior Accounting Staff

Part of the company since: 2015

Company: PROMOS consult

Janette Wesselow is a trainee at the administrative sector. In the interview she presents herself and her tasks at PROMOS.

nowInterview
Hello Janette! How was PROMOS getting to your attend?
Janette: Originally, I wanted to do something completely different. I wanted to work at the police department. But this didn`t work out, therefore I needed a second plan and just applied at different companies for the office management. I found PROMOS on the internet on "Stepstone" and now I work here since August 2015!
Please tell us from your hiring process!
Janette: Pretty quickly I got invitations for job interviews. When I came to PROMOS for my job interview I didn´t know the very first office was the office for registration. So I just went passed it, till somebody asked me, where I wanted to go and brought me to the responsible person [laughs]. At the other interviews I didn`t feel as comfortable as here, therefore I decided to come to PROMOS.
Which expectation did you have on your education at PROMOS before you applied?
Janette: Both of my sisters had the same education. At that time it was called office clerk. They described me their daily routines and said, that it´s not a varying job. But I think it is very varied. Since then I`m working in the financial accounting department and in the office, afterwards I will work at the personnel department. But I don`t know what will expect me!
How old are you now?
Janette: I´m twenty years old now.
In this case you are one of the youngest. Do you nevertheless feel comfortable at PROMOS?
Janette: Yes, totally. All employees are open for questions and explained everything so well to me! PROMOS is more like a family, you can ask questions to anybody at any time here. Recently I had to do some homework for school in EXCEL and a colleague offered his help, although he was working in a complete different section!
What is your field of duties? Do you have to do typical things like "making coffee"?
Janette: Indeed I made coffee once, when I worked at the office. But that was only for customer appointments, where everything had to be prepared. This is a part of it! Beside that I had never been told to bring somebody a cup of coffee [laughs]. My main task in the accounting department is being responsible for invoices of our subsidiary. This includes getting in contact with the customers, if there are incorrect invoices. I`m even allowed to book the invoices for PROMOS. Other than that I book travel expenses, I check the invoice receipts, I write invoices and letters. I can always ask my educator and also the other employees and trainees from the accounting department, if I`m unaware of something.
Is it easy to combine your free time and your education? Which hobbies do you have?
Janette: Well there is not much time left for leisure activities. Because I live in Brandenburg and the route takes me at least one hour. And if I´m not at PROMOS, the vocational school or on the road, I have to learn a lot. Otherwise there are the horses from my sister. During the weekend I like to ride. Furthermore I like to read books.
Thank you Janette, for taking time for our questions. See you soon!
Janette: You`re welcome. Bye.