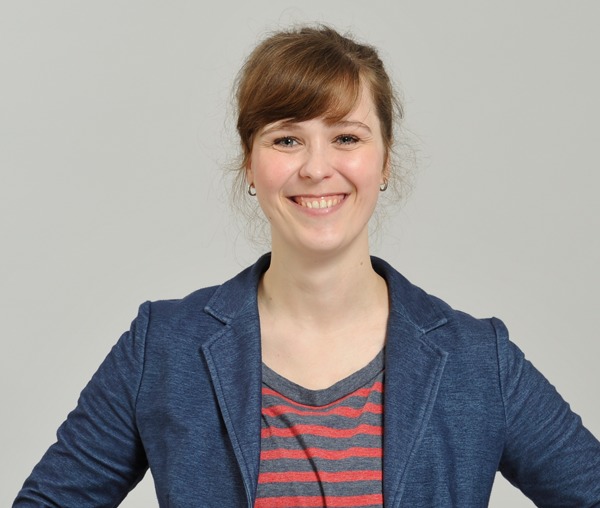 Julia Franz
Position: Director Marketing

Part of the company since: 2008

Company: PROMOS consult

Julia Franz is head of the marketing team at PROMOS. In this interview she presents herself and her tasks at PROMOS.

Interview
Hello Julia! Here are a couple of quick questions to warm up. What type of person are you: do you take the elevator or the stairs?
Julia: I take the stairs.
Cinema or book?
Julia: Book.
Cats or dogs?
Julia: Dogs for sure.
Do you remember your first days at PROMOS?
Julia: Yes, in 2008 I started working at PROMOS in the marketing department as a working student and I´ve worked here for five years during the bachelor and master education. Just before I finished my study, I was offered to become head of the department. And today I´m responsible for three employees and three students.
Has it been a challenge to take over the leadership so close after your academic study?
Julia: Yes, totally! I had the suitable university degree but no experience of personnel management. I was mostly worried my team colleagues wouldn´t accept me, because they only knew me as a student. Luckily, those worries were unnecessary. I was accepted straight away.
Can you act out your creativity even in a technical sector like the IT and the real estate industry?
Julia: Yes, of course, that´s not hard. Especially the topics of housing and living have a very emotional character. And easysquare mobile is an app, which addresses diverse target groups. You can bring a lot of creativity in that. The fact that we´ve only addressed business customers with our products to this point, doesn´t mean they don´t want to be appealed with original ideas.
In order to be creative, it is important to get many different influences. This could be out of specialist medium, but also out of the private area, for example from a movie, which inspired me. Sometimes it is also interesting to think outside the box and get to know other industries. For example, to know what large companies, such as Google or Amazon do.
Which other tasks are behind the marketing?
Julia: In our marketing area are practically no routine tasks. We are editing the whole range of media and measures. That means for example, that we are not only responsible for the web design, but also organise internal and external events or create brochures. That is totally challenging. Every day looks differently. Behind the operative tasks, there are certainly strategic considerations, for example which themes we want to place into the specialist media or how to perceive the PROMOS label from the outside.
What do you like the most about working at PROMOS? What is motivating you?
Julia: Well, in any case the varied fields of duties in marketing and the fact that we barely have any hierarchy levels in our company. The biggest boosters are – even if it sounds cheesy – the people. I have a wonderful team [laughs]. And also the mood between the departments is very good. We have lots of fun at our Christmas parties and also at our summer parties or all other events, which we organise.
Let us take a look into the future, what do think? Do you see yourself at PROMOS even in ten years?
Julia: Pooh, that is a good question. I´m expecting PROMOS to still be here in ten years. Of course I want to be involved. So far it was never boring at all. I hope that it stays the same, I`m curious about it.
What do you do outside of your working hours?
Julia: I don´t have a typical hobby. I´m not the typical angler or something like that [laughs]. But I´m a great music fan and visit concerts together with my friends. Every year we go to festivals together. That is what you could call my hobby.
Thank you, Julia for taking time for the interview.
Julia: You are welcome.