13th OpenPromos Anwenderforum – 29th - 30th March 2017
Solutions and ideas for challenges of the IT-world & thinking outside of the box of the core business offers the OpenPromos Anwenderforum, which will take place again in 2017 in Berlin.

Review OpenPromos Anwenderforum 2015

PROMOS consult invites to its IT-expert conference for the management of real estates, municipal properties and the construction industry in Berlin. Participate and benefit from the chance to exchange views with interesting business partners from the industry and learn about new developments and strategies. Interesting technical lectures of users and experts build a basis for inspiring discussions.
A highlight is going to be the soiree, just like in previous years.
Treten Sie mit uns in Kontakt: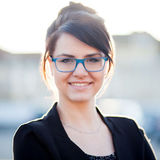 Frau Marianne Fechner
Ansprechpartnerin Veranstaltungen

Please contact us:
Ms Pauline Fiedler
contact person events