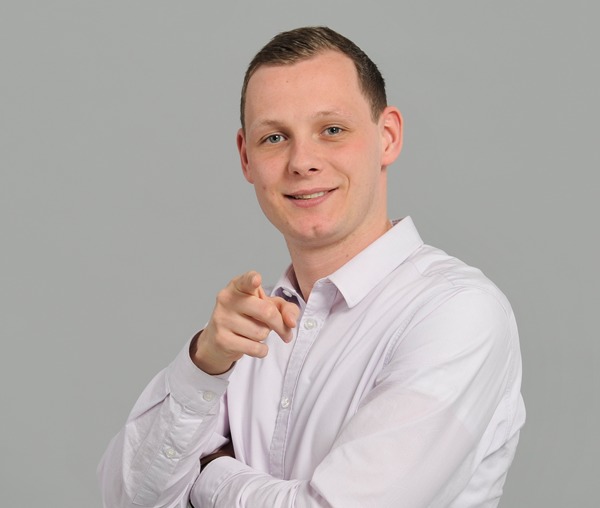 Danny Pfeiffer
Position: Junior Consultant

Part of the company since: 2013

Company: PROMOS consult

Danny Pfeiffer is Junior Consultant in the department Product Development (student). In this interview he introduces himself and his tasks at PROMOS.

Interview
Hello Danny, how did you take notice of PROMOS?
Danny: Through Erik. He had advertised a vacancy for a student employee via the FH Brandenburg email distribution. That´s when I applied. Erik and I knew each other from college.
What have you been doing before?
Danny: I went to university and worked in the retail industry.
Why are you not in the retail industry anymore?
Danny: Firstly, the financial possibilities and the fields of activities are limited. Secondly, there was no perspective for the future (family). Here I´ve got much more potential and my working hours are more flexible.
How was your job interview? How do you remember the first meeting?
Danny: Positively. During the interview it has been signalised to me that PROMOS is interested and wanting to try it with me. After that the working contract was signed. I remember the focus of the interview laid on SAP topics and I was impressed that I would only be working with SAP topics. In reality the amount of SAP topics and mobile topics is pretty even in my activity field.
What convinced you during the interview to work for PROMOS?
Danny: In the interview I have already hinted at needing a company for an internship while being at college. That was when I was guaranteed that can be realised here. With this perspective given by PROMOS I made my decision. That PROMOS is interested in taking on students after they graduate has completed the overall package for me.
What do you do at PROMOS?
Danny: Right now I am working on a product development. I supervise the new and innovative projects at RPOMOS with others. Before that I used to be a student in the department Business Process Engineering (BPE). There I mostly assisted. Nowadays, I was given more work and responsibility. I can work and make decisions independently on my own, which are taken on by the team and the company. I´ve got the feeling I am a part of the greater whole and I personally don´t see myself as a student but actually a full-valued employee.
How does your daily working routine look like? Let´s start with your front door…
Danny: [laughs] I am meeting Erik in the morning and we´re taking the train together. Usually we coordinate that with each other. Of course we then also talk about work – positively as well as negatively. We talk very openly. Arriving at the office we firstly get a coffee – clearly. Then I work on my to-do-list, which keeps growing. When I come to work now, I always know which tasks I am expecting and what I have to do. I am not waiting for tasks, I always have something to do. And those tasks keep coming. That´s exciting. It´s not the typical student employment, where I don´t know what´s coming. I always know what´s coming.
How would you describe PROMOS as an employer to your friends? In three words!
Danny: Flexible. Exciting. Inquisitive.
Why inquisitive?
Danny: Well, PROMOS is suitable for people who are greedy for knowledge. Due to the continuously expanding product portfolio you always have to be up to date. What I mean with flexible is, that your can adjust your working hours freely so it fits to your schedule.
Name three reasons why you like working at PROMOS!
Danny: The hierarchy in the company is awesome. You can be open and honest with everybody. And you also always get honest responses from your colleagues. With problems you can go to anyone – even to the CEO and other students. Everyone helps you.
Since when do you work for PROMOS and what are you proud of the most? Is there a certain event?
Danny: Since September 2013. What I´m very proud of was a three-day training in Basel. On the first day a colleague was with me, the other days I was on my own. That was very exciting. It was great being able to show my independence PROMOS gave me to the customer and that I was given that much responsibility and trust. Especially because it is a very responsible task: you have to give them quality to keep the customer at it.
What would be the perspective you desire, where do you want to be?
Danny: For me Erik seems to be a good example a little bit. I would love to become a consultant. Maybe more travelling and more customer appointments on site.