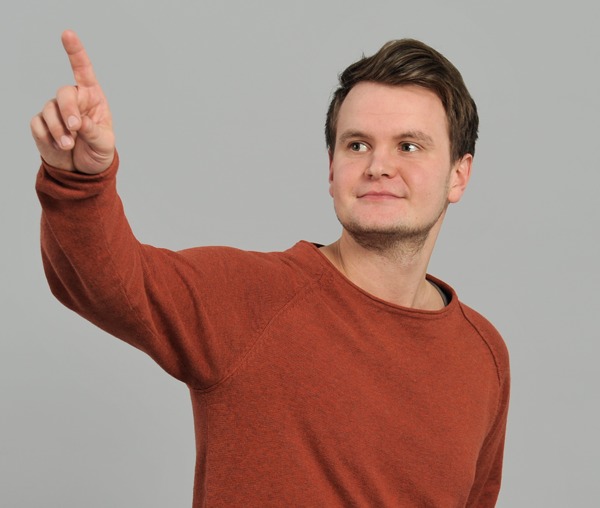 Erik Walter
Position: Consultant

Part of the company since: 2013

Company: PROMOS consult

Erik Walter is a consultant in the department Facility & Construction Management (Career Entrant). In this interview he introduces himself and his tasks at PROMOS.

Interview
Hello Erik, how did you take notice of PROMOS?
Erik: At college I´ve often been talking about student employment positions with fellow students. A good former fellow of mine was working at PROMOS in the financial department at this time. His stories have convinced me to apply for a position as well. Process optimization was the focus of my study, which is why I landed in the Team BPE (Business Process Engineering). Lucky strike for me! Comparing the different departments at PROMOS now, I can say I did the right decision.
Since when are you at PROMOS and what have you been doing before?
Erik: I am working for PROMOS since June 2013. Before that I was graduating from the University of Applied Science Brandenburg where I was studying the bachelor of business informatics and working as a student employee for one and a half years at another company. Since the second semester of my Master´s degree I wanted to work as a student employee again, but an advanced department than before. I wanted to do something next to college, which challenges and supports me personally, because I wanted to become a SAP® consultant after college. Important was the opportunity to write my Master´s thesis for this company and to get the chance to be taken on. PROMOS was the right place for that. Since January 2015 I am a permanently employed consultant at PROMOS.
Can you still remember your job interview, how was it?
Erik: Yes, it was a quick interview. After I turned in my application I had the interview short after at PROMOS. The conversation was pleasant, open and not cramped at all. It was clear right away that everyone feels good here. Familiar surroundings, pleasant atmosphere and a central location in the middle of Berlin. That was very good for me, because I live in Brandenburg at the Havel and I am depending on a good traffic connection. A few days after the interview I have found the work contract in my postbox, I signed and now I´m here… [laughs]
After the student employment in the Team BPE, what are you doing know exactly?
Erik: I am a consultant in the Team Facility & Construction Management, internally it´s called Team Engineering. We mainly work in the SAP® modules PM and MM. Through my responsibilities in the BPW Team I got to know our mobile solutions, which are using SAP® as a data basis. Mainly, it is all about including the mobile process-involved into the business processes of our customers.
How does your daily working routine look like when you´re leaving your house in the morning?
Erik: I am taking the regional train from Brandenburg, from door to door I am on the way for about an hour. I have a laptop, iPad and iPhone as my own company equipment, which is why I can work on the train as well. PROMOS allows me to be flexible with my working hours. The start of work as well as the end. There are days when I am in the office longer, on other days I leave earlier. When arriving at the office I firstly go to the coffee machine and in the beverage storage [laughs]. After that, the actual work begins, which is different all the time, due to various projects.
So summarized, how would you describe PROMOS to your family in three words?
Erik: Flexible. Quick. Lively.
What do you like the most about your work?
Erik: The variety and the responsibility I have as a consultant. In addition to that the work is very sustainable. What I mean by that is, that the software solutions we e. g. implement in a customer´s project can probably be used by many people even in 10 years. And if my head is spinning I can talk with my colleagues about everything without any problems.
Is there anything from the past six months that you are especially proud of?
Erik: I´m proud of my first own project I was responsible for and in which I was able to get to know and perform the whole spectrum of work. From the acquisition date and writing offers to the project planning, the implementation, customer agreements as well as the lead which was given to be short after I got my permanent position.