22/04/2015
Pressemitteilung
Torsten Friedel becomes chief operations officer of PROMOS consult – Siegfried Döring leads department Business Development
With effect from 1st April 2015 Torsten Friedel was appointed chief operations officer (COO) of PROMOS consult and in the future he will be responsible for the consulting. In the future, Siegfried Döring will lead the new segment of business development as the chief business development officer (CBDO) of PROMOS consult.
Since 2010 Torsten Friedel has worked as an SAP consultant at PROMOS consult. Most recently, he was heading the department business process engineering. Prior to PROMOS, he was the IT project manager at EUROVIA GmbH for more than 10 years. "Torsten Friedel complements the executive board of PROMOS consult perfectly with his excellent knowledge in business process optimisation and project management", says Jens Kramer (founding shareholder and CEO of PROMOS consult).
In the future, Siegfried Döring will establish and lead the new segment business development, which gains importance increasingly. In this segment, he is responsible for strategic sales through partner companies, the development of new markets (business development) and the realisation of successful reference projects. "The structure of this segment documents the strategy of PROMOS to continuously develop its portfolio as a full-service provider in real estate industry. Thereby, we especially benefit from the long-term experience of Siegfried Döring", adds Kramer.
In summary, the five-member Board of PROMOS consult is composed of Jens Kramer (CEO), Volker Schulz (CIO), Siegfried Döring (CBDO), Katharina Knorr (CFO) and Torsten Friedel (COO).

To the entire press release: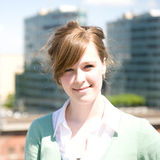 Mrs. Julia Franz

contact person editing
Other publications from the publisher PROMOS PRESS: