Portfolio No.: 9302-01
Subject: Construction
PROMOS Project Cockpit
Successful completion of construction projects
To successfully manage construction projects, it is essential to have the right IT support. It is important to keep track of KPIs relating to target and actual values, so that deviations can be corrected quickly. At the same time, orders must be managed and invoices processed according to the services actually performed.
PROMOS provides you with a powerful project cockpit for your SAP® system with which to manage construction projects. From here, you can process all the relevant transactions and thus manage your data exactly where you need it. The project cockpit displays the KPIs of the construction account and offers you all functions for a project overview as well as for orders and invoices.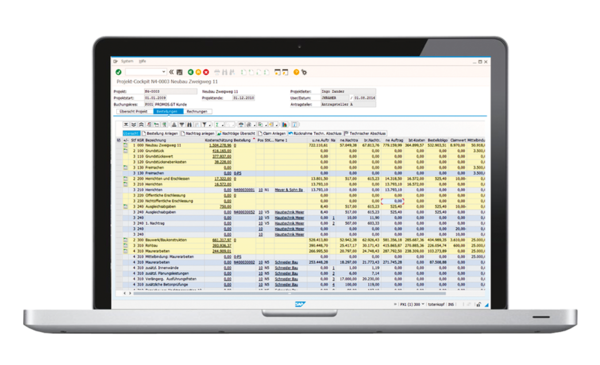 The PROMOS project cockpit can be used as the central control tool for your construction projects. The header of the screen displays the project master data such as the project start date and the project manager. Three different tabs are provided that can be used to map the project's entire lifecycle:
Project overview
The project overview tab displays the project KPIs relating to the overall budget values, target and actual costs and the remaining budget available. At the same time, the funds commitment can be called and forecasts for relevant claims prepared.
Orders
In addition to planning, the procurement process also plays an important role within construction projects. The Orders tab provides you with all the relevant steps for this process: purchase requisitions and orders can be recorded and supplements created and maintained. The project cockpit can also issue an overview of the supplements.
Invoices
The provision of a service follows on from the ordering process. The PROMOS project cockpit can be used to record and release the service entry sheets transmitted by the suppliers. There is also an option for recording any defects. The Invoices tab also provides an overview of all the parked and posted invoices. WBS elements and individual documents can be displayed.
Further information
Based on the project prefix or project profile, individual defaults can be configured for the following items via customising:
Layouts
Jumps
Statistical values for the construction account
Column names
Your benefit
Efficiency: With the PROMOS project cockpit, construction projects can be managed efficiently thanks to the central layout of the relevant functions and information.
Transparency: KPIs for target and actual values can be called in just a few clicks for a specific project and, if necessary, filtered using the standard SAP® functions.

Customisation options: Your requirements for functional and optical presentation can be catered to on a project-specific basis.
End user
Project management
Project controlling
Technical requirements
SAP® ERP

PROMOS Construction Account
Please contact us:
PROMOS consult Projektmanagement,
Organisation und Service GmbH
Rungestraße 19
10179 Berlin-Mitte
Germany
to the contact form