The digital transformation – an opportunity for the housing industry
Digitisation is not a self-serving phenomenon. It is a development that is bearing the most varied fruits in every industry and even adapts to the market situation in question. One might feel that the current rental market in Germany does not need to think about digital transformation.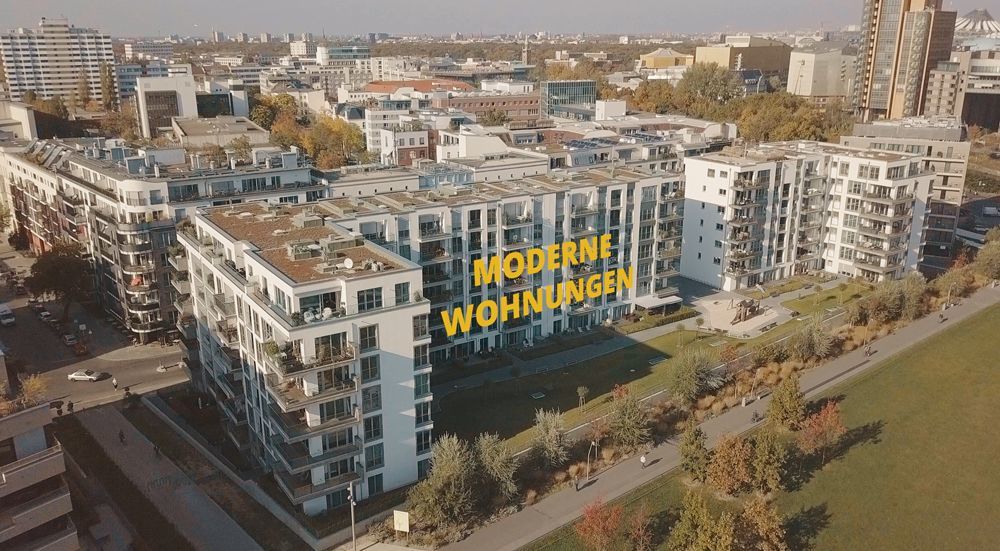 However, the opposite is true. The supply and demand constellation, in which up to 1,000 applications are submitted for a single apartment, involves an extremely time-consuming and expensive selection procedure. This is positively crying out for an automated process. In addition, due to demographic change and the resulting housing shortage, housing companies are implementing a host of inner-city construction projects. However, this building boom is an investment for which full occupancy as of the completion date would be absolutely desirable from an economic standpoint. In addition, there is always a percentage of apartments, albeit a small one, that are vacant and can only be rented out with considerable additional effort.
easysquare provides the ideal rental solution for all these scenarios. As a technical partner of the housing industry, we help companies to act in a cost- and time-efficient manner and to design an application process that is convenient and economical – both for potential tenants and for employees.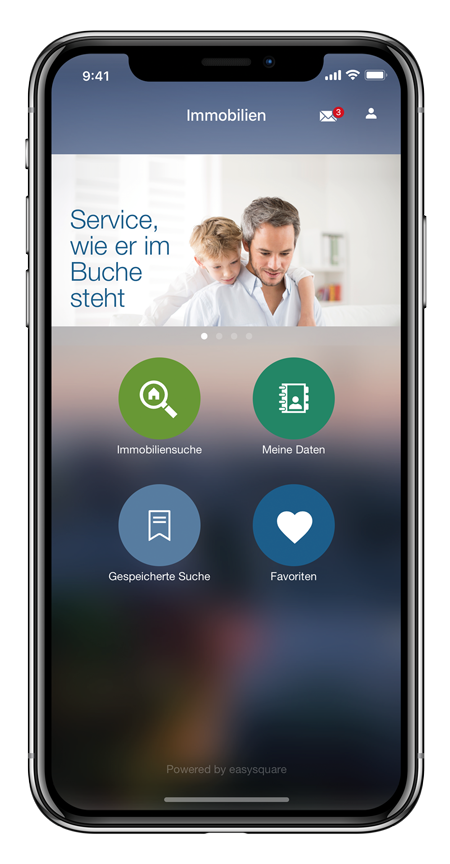 Figure 1: Cost- and time-efficient – the easysquare potential tenants app.

The new rental solution from easysquare
How can housing companies quickly and easily find the most suitable applicant amongst the flood of potential tenants?
The time-consuming route involving service centres and apartment questionnaires as PDFs has had its day. Even the "classic", supposedly digital, distribution route with a large volume of individual exposés in real-estate portals and analogue applicant management involves a great deal of effort for personnel and is extremely time-consuming.
However, a property can be let in a "truly" digital and fully automated manner. Applicants personally make documents that are relevant for the rental contract available in the app, and a data comparison in the system prevents multiple registrations and unsolicited applications. The system filters out suitable applicants transparently based on allocation parameters, communication takes place quickly and easily within the app, and rejections are generated automatically.
Even the usually time-consuming viewing appointments can be replaced with a virtual walkthrough, potentially coupled with a viewing of a show apartment.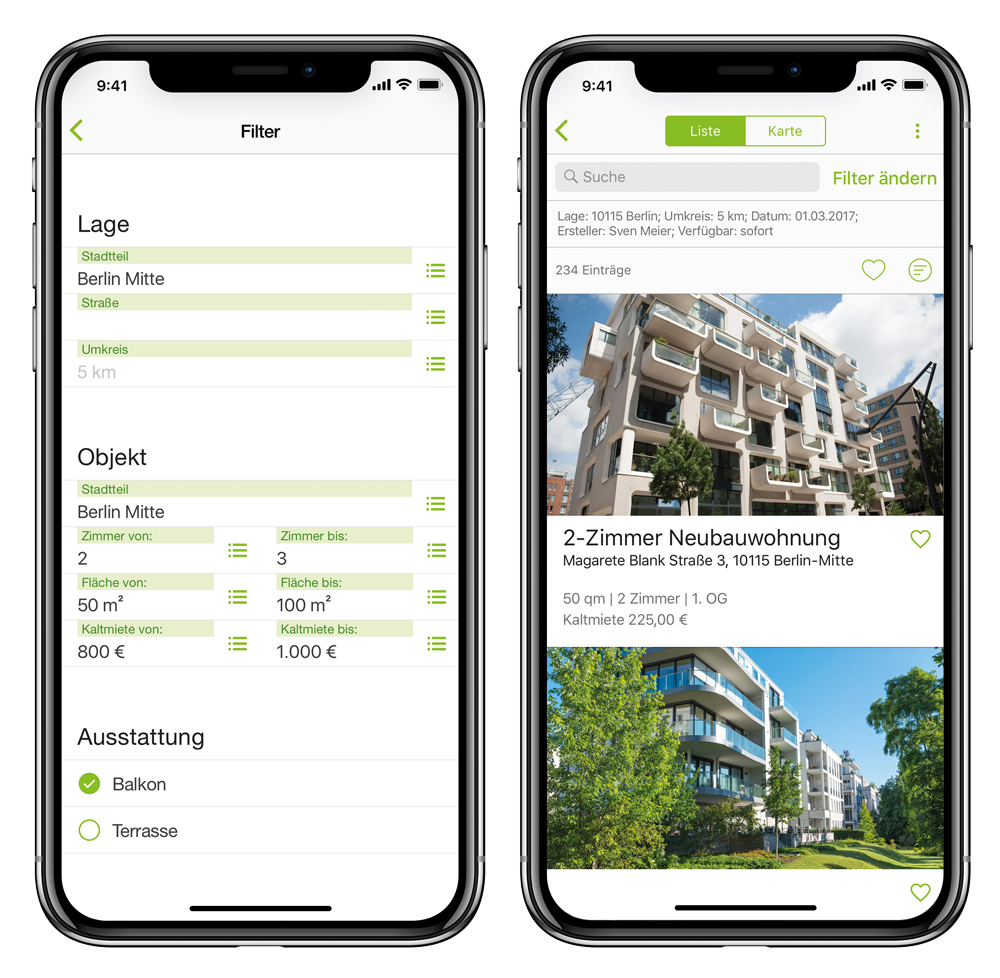 Figures 2+3: Easy and clear – the property search (left). Results list of a search (right).

The power of the moving image

easysquare provides a range of options for integrating video elements and thus realistically depicting the rental property. One method is integration of 3D floor plans into the apps.
Classic black-and-white floor plans with numerous details and technical information make it difficult for potential tenants to picture a property. A 3D floor plan that provides a genuine impression of the property is much more convincing. Integrated images of sample furniture allow the viewer to visualise the apartment in the comfort of their own home.
Impressive drone videos or accelerated long-term exposure can also be made with little effort and capture the viewer's emotions.

For example, a drone video can show the progress of construction work until completion of the building as a time lapse. Companies like Apple are setting an example and letting their employees, customers, fans and followers experience the furnishing of the new company building virtually live. This provides an impressive visual experience that simultaneously results in a positive emotional connection to the company. It's as clever as it is simple. And this effect can be adapted for the housing industry. In order to have a fully leased rental property as soon as construction of a building is complete, the visual spectacle for viewers – for example on Facebook or the company's own website – can provide a direct link to the easysquare potential tenants' app or digital rental solution.
A recommendation for vacant properties: a flight over the potential residential area engages viewers. People who can view an impressive video of their potential new residential building and are taken on a "flight" around their new surroundings, where they can even see that a green space, the nearest baker or a pharmacy are just around the corner, will be positively enticed to place a rental request.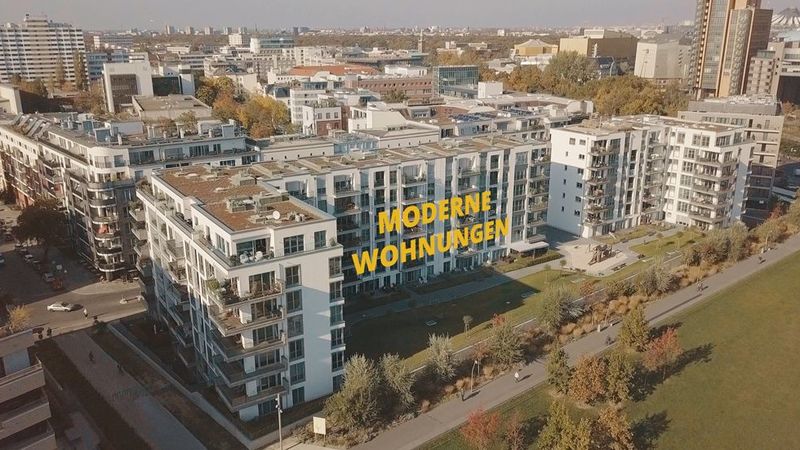 Exemplary flight over a residential area

Integrating social media into the rental solution
In order to find the most suitable applicant for a rental property or return a vacant apartment to the rental pool, it also makes sense to use a channel that potential customers use for information and communication in their everyday lives. Facebook, the world's largest social network, provides the technical requirements for optimum presentation. The easysquare rental solution can provide a connection to the social networks for you to present and market apartment complexes and residential areas. Information that is relevant for the exposé is prepared in a social media-friendly manner and then a link to the easysquare potential tenant app is added. Example: Imagine the added value for potential tenants if, below the Facebook post from their municipal housing association containing an article on proper planting on the balcony, they can click on a link and find all the vacant apartments with a balcony?
Summary
The current market situation has changed renting and distribution. easysquare provides the technical tools for these new requirements. With the connection to the company's own IT infrastructure, this results in an effective process that saves the landlord a great deal of time and money. At the same time, this modern procedure is more convenient and transparent for the applicants. The new rental solution from easysquare thus results in a win-win situation for everyone involved in the rental process.