A new era for administration – ERP software renewal and mobile solution
On 1 January 2018 Hilfswerk-Siedlung GmbH (HWS) migrated to new ERP software: a major, time consuming step forward. A rough schedule was planned for this and a separate project group established. The change was needed as the existing software would only be available until 2020 at the latest.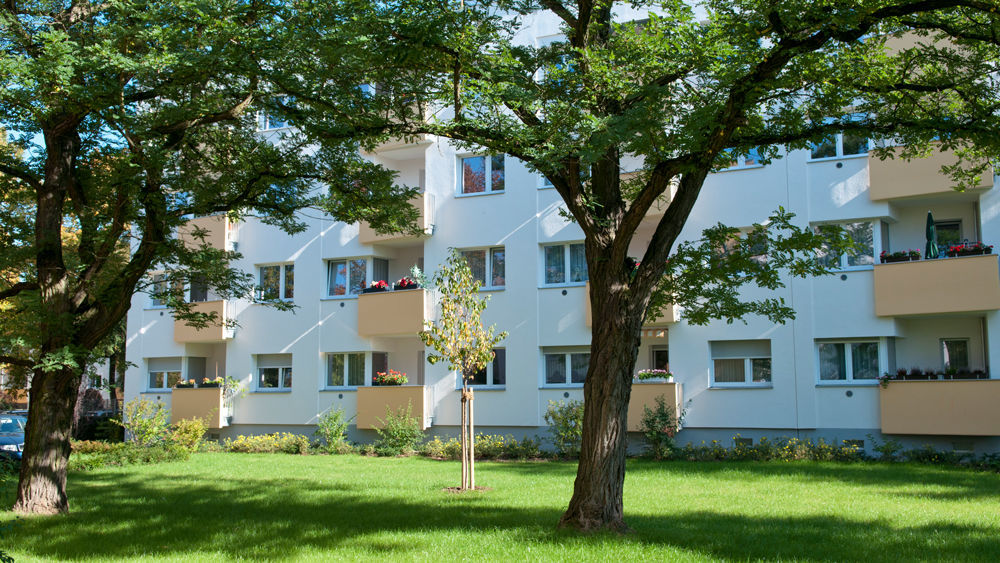 Long list with HWS's requirements profile
As the first task, we produced a long list to define requirements in terms of the functions and content needed for the potential new software. We had already worked out the initial requirements in 2015. By the end of June 2016, various workshops were held which yielded more precise information in respect of a planned restricted call for tenders to select a new software provider. Nine companies were asked to tender and seven of these submitted an offer.
Tender won by PROMOS consult
The offer documents were evaluated using a function matrix and price comparison list. PROMOS consult's offer was the most impressive: although the price was towards the top end of the scale, its services were an excellent match with our requirements profile. We signed the contract with PROMOS consult in December 2016.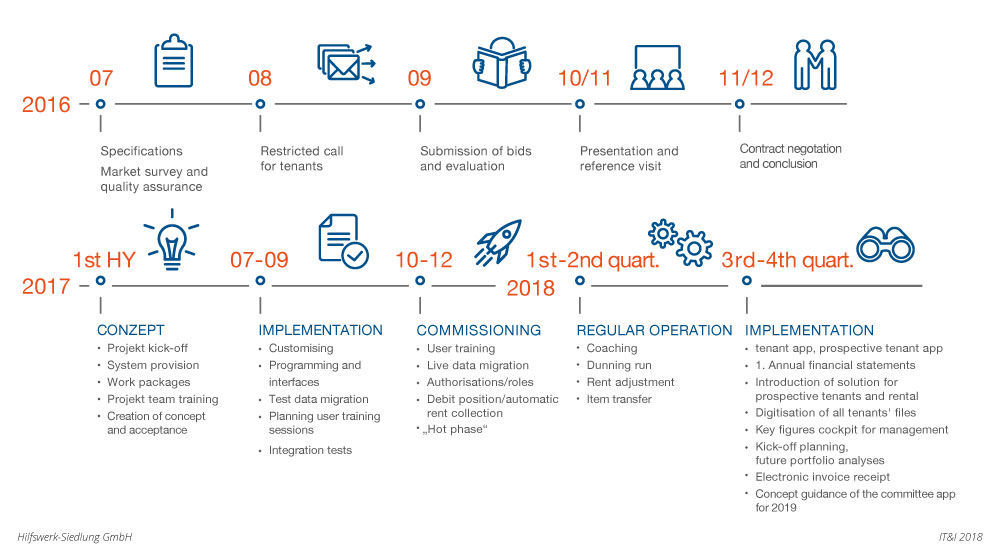 Figure 1: Project phases during the ERP changeover.

Figure 1: Project phases during the ERP changeover.

The HWS project group overseeing the program
Once the SAP® program proposed by PROMOS had been selected as the new software to meet our requirements, an "HWS 4.0" project group was established, overseen by Ronny Rehbein, our head of IT. Analyse & Konzepte – Beratungsgesellschaft für Wohnen, Immobilien, Stadtentwicklung mbH, a Hamburg-based consultant specialising in housing, real estate and urban planning, was brought in as an external partner to work on the project.

Consultancy from Analyse & Konzepte
Analyse & Konzepte, a consultancy with 25 years of experience, proactively helped us shape the changes and modernisation we were seeking, bringing them to a successful conclusion. To create new flexibility for the future, we worked together to establish the extent of the change, optimised sensible and practical interfaces between managers and employees and held training courses and workshops.
Optimising process control
We had to record and verify workflows in our internal and external organisation in order to develop procedures to improve the service and process quality of Hilfswerk-Siedlung GmbH. Sophisticated process control including the control and integration of individual projects was optimised on this basis. As our organisation's goals were primarily focused on the needs and requests of the end consumers and tenants – in the form of their own and third-party management – issues relating to transparency, speedy and mobile access, ease of updating and avoidance of data redundancy played important roles.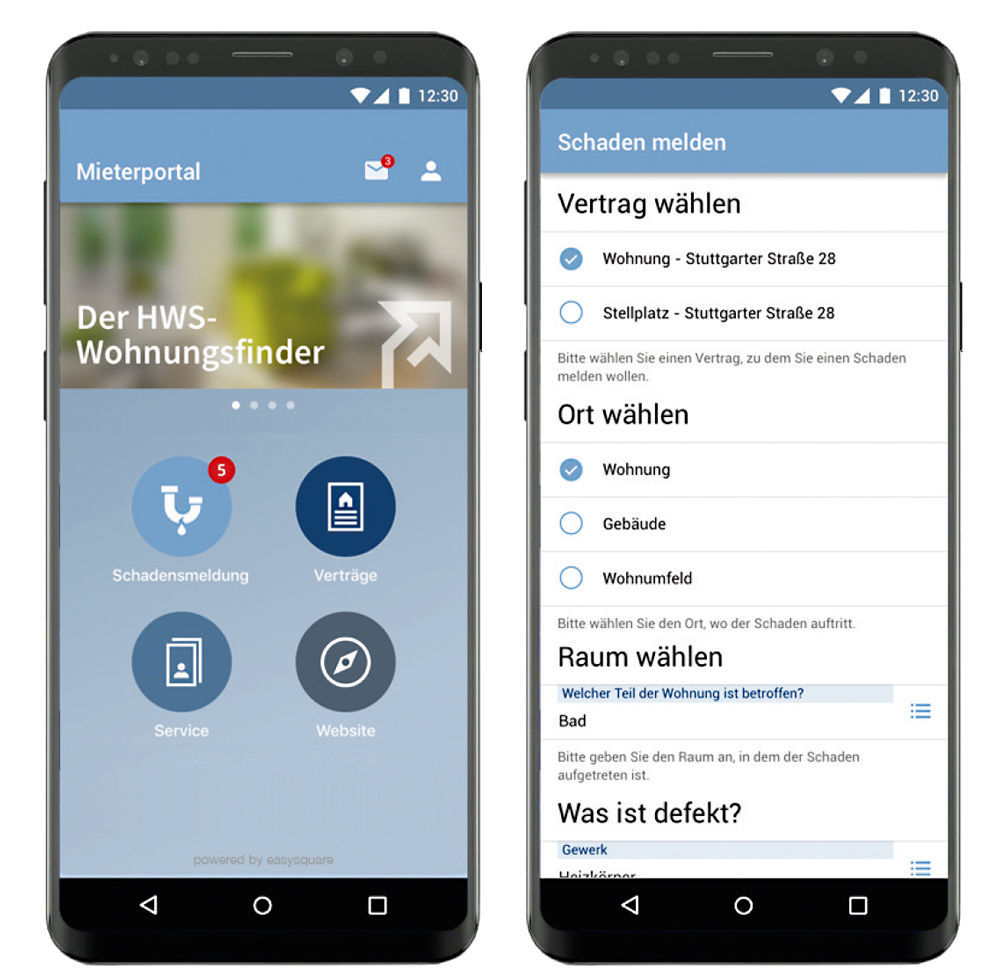 Figures 2+3: Effortless communication with the HWS tenant app for Android, iOS and as a web app powered by easysquare (left). Example showing the structure of a digital form in the HWS tenant app – here using a defect report as an example (right).

Decision in favour of the easysquare app
In view of our main target group, we decided to use easysquare – a unique digitisation solution that allowed information about property management to be to be recorded and processed using mobile apps and everyone involved to be connected to one another.
Effortless communication with tenants
The tenant app provides our tenants with services via their smartphones or tablets, allowing them to access current information about their contracts and submit defect and service reports. It is also possible to use the app to apply for permissions or change master data. Furthermore, tenants can use this app to communicate directly with HWS or tradesmen.
Caretakers work more efficiently
Our caretakers use the easysquare app to record information, defects, requests and work results for ongoing processes while on site: handover and return of keys, residential property inspections, records of defects, meter readings, a record of equipment, a recording of tenant data, handover of residential property, acceptance of accommodation and much more besides: with the help of the easysquare app we have been able to leave the era of paper forms behind us and to significantly improve the efficiency and speed of all current processes. What's more, by reducing paper consumption we have made a contribution to "green" sustainability.

About HWS
HWS is a company of the Berlin-Brandenburg-schlesische Oberlausitz Evangelical Church and manages around 10,000 units owned by the church itself and third parties. Apart from residential accommodation and leasehold, this includes properties and its own forestry. HWS owns diverse types of real estate in Berlin, Brandenburg, Saxony and Mecklenburg-Western Pomerania. Our many years of experience with a good track record and our expertise in the real estate business are due to more than 60 years of successful property management. As an organisation of the evangelical church, our stated aim is to combine social sustainability and efficient business practice for the benefit of our tenants and customers. We are also engaged in social projects.
You can find more information on HWS at www.hws-berlin.de.

Lara Rentmeister, press spokeswoman of HWS

Günter Egemann, freelance author