09/02/2016
Pressemitteilung
PROMOS consult is awarded the contract for new ERP solution at HOWOGE
PROMOS consult was awarded the contract for the migration of a new ERP system by the HOWOGE Wohnungsbaugesellschaft mbH and will supervise the Berlin housing association in this section for the next five years at least. The respective contract was signed on 14th January 2016 in Berlin.
The HOWOGE has released the tender for the migration of a new ERP system in the early summer of 2015. According to the tender a tried and tested ERP system for the real estate industry was being looked for, which would support the HOWOGE at current economic tasks safely, with future oriented and proficient functionalities. The performances to be awarded were for all needed services, especially system supply, the migration as well as the system operation. 

"We are excited HOWOGE has chosen our solution PROMOS.GT. This way we are providing the company with a SAP-based ERP system in the future, which is custom-built for housing companies and makes a more efficient and cheaper management of big housing stocks possible", says Katharina Knorr, CFO and founding shareholder of PROMOS consult. 

PROMOS.GT is a generic template for an open solutions library. All previous project solutions of PROMOS consult from the real estate and construction industry are summarised in it. "More than 80 percent of all projects and customer enquiries are implemented so that sustainable solutions are created and they are available for all customers of PROMOS", explains Knorr. "With this procedure we can guarantee that current project solutions as well as projects from the future can be provided to all of our other customers as well. While doing so, those solutions can flexibly be adjusted to the specific requirements of every single customer. The periodic qualification of our PROMOS branch solutions by SAP® gives our customers certainty that every component of their ERP system will harmonise well."
The HOWOGE Wohnungsbaugesellschaft mbH is the most powerful municipal housing company of Berlin. With an own housing stock of about 57,400 apartments the company is one of the ten biggest lessors all throughout Germany. Circa 350 and more of the about 630 employees will work operatively with the ERP system in the future. Since 1990 the HOWOGE stands for a sustainable stock development, innovative housing concepts as well as social commitment at the locations Lichtenberg, Hohenschönhausen, Treptow-Köpenick, Weißensee and Pankow.

Photograph of Signing Contract on 14th January 2016
To the entire press release: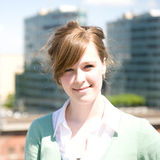 Mrs. Julia Franz

contact person editing
Other publications from the publisher PROMOS PRESS: