06/10/2014
Pressemitteilung
Easysquare is coming – the platform for your mobile processes
With its new platform "easysquare" the software and process consulting house PROMOS consult in Berlin creates a unique and reliable networking solution for all involved in the real estate industry. Easysquare is an easy to handle market square based on the cloud framework, which integrates mobile processes smoothly into the existing overall process from the real estate business.
All data concerning real estate processes are centrally controlled and connected with each other. Authorized users can call up particular data via the internet from all over the world – with the native app easysquare mobile for the iPhone/iPad as well as with the WebApp for the PC and Smartphone.
The app easysquare mobile guides the user intuitively, due to simple interaction components, symbols and colorations, which even makes complex issues easy to handle.
"With easysquare we not only create a new face for our solutions IMMOLOGIS and OpenPromos® Process Cockpit (OPPC) but we also create a label that will push our in Germany established software and consulting house forward to the international market", says Jens Kramer, CEO of PROMOS consult. "Significant functionalities were added and are now available for our customers in the easysquare mobile app at the app store. Together with our customers we worked out requirements and wishes purposefully, in order to adjust the app even better to the very specific requirements of mostly complex, mobile processes. Easysquare is a practical and unique solution that will let real estate companies take part in technical improvements successfully", Jens Kramer adds.
The platform can be connected to the central ERP system of the real estate company and offers many different applications, so called services, which already depict most of the real estate processes. Digital forms instead of paper forms that have been used so far support the overall process with intelligent links and reduce errors drastically. The adjustment of digital forms to the corporate requirements is simple and happens quickly. The processes of a real estate company gain transparency and speed.
Excerpt of available services of easysquare

Mobile object maintenance and customer support, among others reports of defects, apartment acceptance inspections…

Safety precautions for buildings

Prospect portal, tenant portal

Winter services

Craftsmen linkage

Monitoring of construction progresses

Intermediation of services relating to habitation

Intermediation of added value services relating to habitation

Get to know PROMOS consult and easysquare from 6th- 8th October 2014 at the Expo Real 2014. You will find our team in hall B1 at the stand 011.
Event suggestion:
Monday, 10/06/2014 and Tuesday, 10/06/2014, at 2.00 pm presentation: "Connect the real estate industry with easysquare – intelligent forms for more service, mobility and profitability"
More information here: www.easysquare.com

To the entire press release: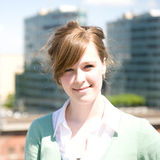 Mrs. Julia Franz

contact person editing
Other publications from the publisher PROMOS PRESS: