14/03/2014
Pressemitteilung
Result: 4:9 – PROMOS defeated by a user
Yesterday, the 11th OpenPromos Anwenderforum 2014 came to a successful end in Berlin. In the opening event on Wednesday, Jens Kramer, founder and CEO of the PROMOS group, was defeated by his voluntary guest Alfred Grabosch from the Bayrische Versorgungskammer in an intense quiz-duel by 4:9 points.
Following this casual introduction there were discussion forums, presentations and 14 seminars during this two-day specialist event that had about 170 participants from all over Germany. Jens Kramer explains the background of the choice of topics at this years' user forum: "The focus was on topics such as innovation, strategies for the future, digitization and linking this with the needs and expected challenges in the many-facetted housing marketplace".
"The OpenPromos Anwenderforum has become a well-established event in this industry," says Peer-Jörg Langkrär, director of information management/organization at the BGW Bielefelder Gemeinnützige Wohnungsgesellschaft mbH, who has participated for the 11th time.
The 12th OpenPromos Anwenderforum is going to take place on the 24th and 25th March 2015 in Berlin.

To the entire press release: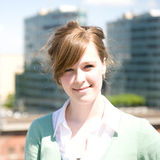 Mrs. Julia Franz

contact person editing
Other publications from the publisher PROMOS PRESS: