05/10/2016
Pressemitteilung
PROMOS consult presents new brand logo and new website
Within a brand relaunch PROMOS consult, the specialist for software solutions in the real estate industry, presented a new brand logo and an all-around renewed website.
The new logo is a depiction of the mountain Promos in Carinthia translated into a modern use of forms, which gave the company based in Berlin its name. At the same time the name represents the three core business fields project management, organisation and service. Together with the new brand depiction PROMOS has released a completely renewed website, which puts the focus on the product portfolio including 130 various solutions of the IT company with the aid of eight categories.
"The centre of our new website is our product portfolio. The clear depiction of our products with the opportunity to choose from suitable single solutions and collect those individually, marks ourselves off from the competition significantly", says Jens Kramer, CEO of PROMOS. "More and more customers optimise their software solutions after own focal points. The demand gets more differentiated. That´s why we offer an online watch list for the selection of individual solutions", Kramer adds. The eight product categories cover the entire value-added chain of the real estate industry and takes account of the different business fields. Amongst others, specialised software for the construction industry, the real estate management as well as the facility management belong to portfolio. Mobile solutions for smartphones and tablets, which are summarised within the brand easysquare mobile, function as a special section.
The online supply is extended by video tutorials, event information and an overview on customer references. Diverse company publications such as the customer magazine "IT&I" or the PROMOS newsletters can now be read and subscribed on the website. Besides all tendered job positions also short portraits of selected employees are included in the own career portal. The online portal is one of many instruments for recruiting, because PROMOS is looking for dedicated staff to strengthen the personnel. Interested applicants can find more information on https://promos-consult.softgarden.io/.

To the entire press release: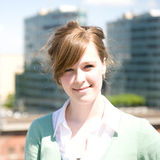 Mrs. Julia Franz

contact person editing
Other publications from the publisher PROMOS PRESS: