25/09/2019
Pressemitteilung
PROMOS consult acquires EXAD Software for consumption billing
PROMOS consult is acquiring EXAD Software for consumption billing along with the associated consulting and development department effective 1 October 2019.
PROMOS will incorporate EXAD Software into their product portfolio and develop it further as modern software for consumption billing. This enables PROMOS to provide support for the current AS400 version as well as ensure the availability of a scalable version in the easysquare Cloud. This will be of interest for any real-estate company looking for an efficient and highly integrated solution for the independent invoicing of operating and heating costs.

"We have many customers in the housing industry who are very interested in using an integrated software solution for operating cost invoicing. By acquiring EXAD Software for consumption billing and the associated consulting and development department, we are in a position to offer a modern solution for those who prefer to do their own invoicing", says Jens Kramer, CEO of PROMOS.

Jens Kramer elaborates further: "Our customers can now independently determine the exact depth of service and work distribution they would like for utility billing."

PROMOS believes that the market for available measuring devices will be liberalised. At the same time, the professional competences required for correct and quick utility billing are growing more complex, leading many real-estate companies to take on more responsibility for this process themselves.

"Utility billing is the biggest IOT topic in the real estate industry", says Christian Linke, the manager responsible for the new product. "Despite their long-standing connection to the large heating meter-reading companies, more and more property managers are calling this work distribution into question and looking for alternatives to optimise this important process and profit from the advantages of automated processes themselves. Finally there is an open and efficient complete solution and, with PROMOS, a strong partner to offer these possibilities for change to many customers."

Interested parties can discuss these possibilities with PROMOS representatives at Expo Real on 7–9 October 2019 at stand B1.011.

Jens Kramer, CEO of PROMOS consult, on location in Leipzig at the consulting and development department of EXAD: Christian Weckel, Jens Kramer, Toni Schuster and Christian Linke (left to right)

To the entire press release: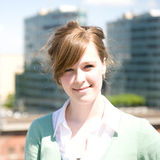 Mrs. Julia Franz

contact person editing
Other publications from the publisher PROMOS PRESS: