08/10/2019
Pressemitteilung
A new level in real estate management – maintain complete control at all times with the reporting service powered by easysquare
Another brand new digital solution from the easysquare family is ready to launch and delight the real estate industry.
At this year's Expo Real, the reporting service in the easysquare owner app will be demonstrated to a wide audience in a live presentation. This service provides property owners and investors – who outsource the management of their real estate inventory – with the key performance indicators and evaluations of their portfolio in an app. All the important KPIs and information on the portfolio can be accessed in the app, including master data for the properties, rental income, vacancy rates, and the development of fluctuation and maintenance expenses. Further functions round off this absolute added value: news or reports, such as the annual report, can be provided or viewed.

"The new technological possibilities and functions are optimal additions to the easysquare owner app," says Jens Kramer, CEO of PROMOS consult. "This product innovation expands the application's circle of users and provides maximum convenience. Owners and investors with property that is managed by third parties – and that potentially have multiple portfolios – now have the opportunity to view the key figures relating to their properties at all times and in a structured way".

Mr Kramer continues: "A particularly effective feature is the attractive graphics in the app. The portfolio owner can view all the important KPIs easily and transparently with a single click. The key figures and analyses are explained in a glossary. Additional features such as news or reports make the service a comprehensive solution for communication between property managers and portfolio owners. At operational level, this results in significant efficiency gains for managers, who can provide the client with information in a convenient and transparent way. Significant times savings are guaranteed thanks to the reduced communication effort".

Interested parties can discuss these possibilities with representatives of PROMOS and its digital brand easysquare at Expo Real on 7–9 October 2019 at stand B1.011.

Live presentation: "Keep track of everything with the easysquare owner app – key figures for owners regarding the portfolio" – 8 Oct. 2019, 11 a.m., at stand B1.011

In the reporting service of the easysquare owner app, real estate owners and investors can access the key performance indicators and evaluations of their portfolio in one click.


Especially effective: the graphic portfolio evaluations in the app. Simple and transparent, the portfolio owner has an overview of all key figures with just one click. The key performance indicators and evaluations are explained in a glossary.

To the entire press release: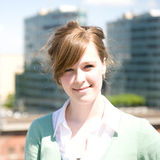 Mrs. Julia Franz

contact person editing
Other publications from the publisher PROMOS PRESS: