BIM Berliner Immobilienmanagement GmbH
Best practice for the management of municipal properties and real estate PROMOS.CITY
portfolio: 3 million m² net floor area
project period: 3 months
live since 10/01/2006
number of users: 36
SAP® version: SAP® ERP 6.0 based on industry solution for the management of municipal properties and real estate PROMOS.CITY

Sven Lemiss: BIM as a company owned by the state Berlin with 70 employees handles property owner and operating functions for a pool of about 3 million m² net floor area. Renting, leasing, integrated floor-space management and utility statements are part of the cooperation remit as is operating and controlling the Landesbetriebe für Gebäudebewirtschaftung (LfG) in order to manage the operating properties of Berlin efficiently and optimally.
Another significant task of BIM GmbH is the gradual reduction of the reconstruction backlog for properties that are partly listed buildings. We are convinced that a high level of standardisation leads to more efficiency. What has been proved in manufacturing industry can also be possible for the real estate industry.
From our point of view the standardisation of frame processes and business figures is an important success factor and confirmed our opting for an integrated ERP-SAFM system. The new solution focuses on commercial functions, controlling and mapping of a landlord-tenant model. A CAFM system is integrated via an interface. We profited from the experience of others in the work done on implementing an industry-specific template solution. The amount of customizing involved is significantly less than in an SAP® integration of individual modules without an industry solution.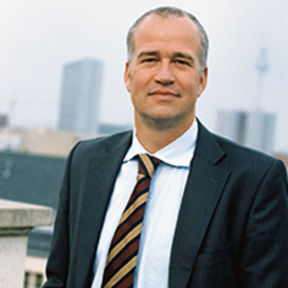 Sven Lemiss
CEO
"Our success proves us right: The cost certainty was given and the schedule wasn't exceeded. Rarely have I seen such an efficient implementation of a major system without any complications!"