Postbaugenossenschaft Baden-Württemberg eG
From piles of documents to a mobile inventory manager
industry: housing industry
products and services: renting of apartments and foreign-/COA administration
portfolio: 2,075 private apartments at 47 locations, foreign administration of 662 apartments for 39 condominium communities
members in association: 2,346
balance sheet total: 91,276,391.84 € (2012)
employees: 24
The challenge

About 120 changes of tenants annually, apartment acceptance reports and safety precaution inspections had to be managed and documented on paper: what used to be a major headache effort for the six inventory managers at Postbaugenosenschaft Baden-Württemberg eG. Now, the company maps every apartment acceptance inspection with the easysquare mobile work desk. Since October 2012 the company has been able to process changes of tenants and apartment acceptance inspections much faster and more efficiently this way. Experiences in daily work in Tübingen with the new mobile tool were extremely positive in very short space of time, which is why it was decided in the middle of 2013 to implement the mobile easysquare safety precautions solution to replace the MS Excel-based acceptance inspections with paper reports
The solution

Mobile change of tenants
The office worker registers enters notices of termination as in the past in the ERP system of the housing company. From the process cockpit he initiates the apartment acceptance inspections with the required process data and ERP master data on the tenant, property and apartment. The easysquare portal generates a mobile form from this ERP process that contains all necessary process data for further local processing.This process form is distributed to the particular mobile users locally via the easysquare portal. There it ends up as a task/ticket on the mobile work desk of the easysquare mobile App on the mobile device. After the apartment acceptance inspections report has been completed by the inventory manager in the presence of the tenant, a signed PDF report is generated from the mobile entered data, images and signatures. This can be sent to the tenant via email and archived as an electronic report in the main ERP system of the Postbaugenossenschaft. There it is available in the document-management system for later evaluation or requests at any time.
Mobile safety precaution
The process of mobile safety precaution is realised as a series process in Tübingen. The MS Excel lists that had been used for the planning and acquisition of locally generated paper reports are now used as a starting point for the new solution. This means these Excel data is uploaded to the easysquare portal by the Postbaugenossenschaft with separate client structure. In the easysquare portal the data are transformed to mobile inspection forms which appear in the customised work tray of the inventory manager as a safety precaution form per property with due and assigned tasks. The work can be completed locally as a mobile task with the tools the easysquare platform offers (photo function, notes, signature fields…).After processing the document can be sent to the central server for additional processing. That way any errors detected can be noted and sent back as a post-inspection task. The reporting of errors creates the next process step automatically.Those inspections are archived electronically in the easysquare portal, can be selected at any time, called up, or used for further reports.The company has already prepared for the future: the Postbaugenossenschaft is planning on making more of their main business processes mobile via easysquare.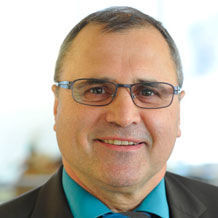 Berthold Flammer
Director of the Postbaugenossenschaft Baden-Württemberg eG

"We are very satisfied with the implementation of our requirements for mobile processes. Thanks to the very good cooperation between the consultants, the PROMOS plug-in to connect to the easysquare platform was implemented in our Blue Eagle System in an amazingly short time. Everything worked brilliantly. We have received very positive feedback from our users about the easysquare mobile app on the iPad.
We have decided to use easysquare mobile for even more business processes."