07/05/2014
Pressemitteilung
IMMOLOGIS GmbH and PROMOS consult merge to one company
IMMOLOGIS GmbH, the former subsidiary of PROMOS, is being merged with its parent corporation due to strategic and organisational reasons. As a consequence, IMMOLOGIS customers will profit especially from uniform and streamlined support processes.
CEO Jens Kramer explains the decision as follows: "This integration gives us more time for our customers."
The IMMOLOGIS brand remains unaffected. Mobile offerings, the online-platform and the iPhone/iPad app will still be operated under the name IMMOLOGIS.
After completing the full integration of IMMOLOGIS GmbH into the Berlin consulting and system house PROMOS, Ralf Seveneick, CEO, and his team will resign as planned. Jens Kramer: "We thank Mr. Seveneick for the successful cooperation. Mr. Seveneick has made a substantial contribution to the restructuring of the PROMOS group with a strategic focus on mobility and digitisation."
The executive board has decided to appoint Jens Kramer as head of sales management with support from Markus Grube, the CEO of PROMOS.REC real estate controlling GmbH. The new sales structure connects the cooperation between the PROMOS consult and PROMOS.REC and is a step towards achieving the goal of strategic growth of the entire PROMOS group. Siegfried Döring, chief operation officer (COO), is responsible for the consulting and key account management departments. This creates a three-person board comprising Jens Kramer (CEO), Volker Schulz (CIO) and Siegfried Döring (COO).

To the entire press release: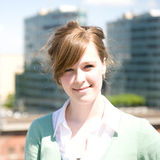 Mrs. Julia Franz

contact person editing
Other publications from the publisher PROMOS PRESS: