Portfolio No.: 9206-01
Subject: Utilities
PROMOS Utilities Cockpit
Complete monitoring and process controlling of the utility statement with the PROMOS Utilities Cockpit
The annual utility statement costs housing companies significant time and personnel expenses. Complex coordination and agreement processes with internal contact persons and external service providers (e.g. heating metre reading companies) make the business process more difficult. "What is our current situation?" or "Do we need to reallocate resources?" are central questions that are frequently answered based on data that is maintained manually outside of SAP® and is therefore subject to errors (for example, centrally stored Excel files).
With the Utilities Cockpit, PROMOS provides you with an SAP®-based utility process monitoring tool that maintains a high quality level for the utilities, tenant and COA statements. A traffic light function shows at a glance for each business entity (internal statement) or DME (external statement) whether this has already been billed. Each stage of the statement can be called up directly, tracked, monitored for deadlines and analysed. The system guides the user through the utility statement business process.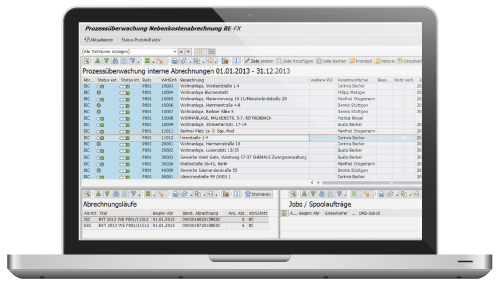 Processing external settlement results
Heating metre reading companies provide external settlement results in various formats:
Paper statements (manual recording required)
D records for heating/hot water
W records for cold water
E records (complete data exchange; heating, hot water and cold water)
All the formats mentioned above can be conveniently processed using the Utilities Cockpit. As they are saved in separate PROMOS tables and thus independently of the settlement ID, the statements can be terminated without having to read in the settlement results again.
Integrated utilities statement
In PROMOS.GT, an "integrated utilities statement" refers to the generation of a complete utility costs statement letter consisting of an operation and heating costs statement including all appendices. This also includes the external appendices from the heating metre reading companies, which are automatically generated in SAP® and no longer need to be sorted manually.
E records
The integrated utilities statement requires E records, which contain all the variable data that metre reading companies usually print on the statement letter. E records allow electronic quality assurance of the external statement and form the data basis for various reports. The data record structure must comply with the standards of the Cooperative for Heat and Water Costs Distribution (Arbeitsgemeinschaft Heiz- und Wasserkostenverteilung e.V.). When you process E records, we recommend that you make use of the services in PROMOS.FS.
Further information
Other functions in PROMOS NKPU:
Selection and valuation of responsible persons per AE

Consideration of cross-AE statements

Visualisation of the degree of completion by means of a traffic light system

Planning of the statement stages, including downloading and uploading to Excel

Option to save notes on the statement per AE (or DME)

Documentation of the processing steps (history)

Direct call-up of settlement units that have not yet been billed for a settlement period

Optional: authorisations for each statement stage

Option to save AE-specific statement features (independent of the settlement period)

Integration into the PROMOS.GT work basket
Reports:
Automatic determination of the settlement IDs for each AE or DME with the possibility to jump directly to the reports regarding the statement

Mandate assignment for COA accounting entities (keyword: tenant's statement)

Exporting of archived invoice documents

Automatic generation of tenant lists (basis for the heating metre reading company to provide A records)

Your benefit
Process monitoring: Read the settlement status at a glance based on real-time data
Process control: Increased quality thanks to standardisation of the settlement process, cross-company coordination and plausibility checks
Process planning: Increased adherence to deadlines; integration into the work basket when using the PROMOS.GT start screen
Process documentation: Reduced research times thanks to an automatic history and notes regarding the statement
Report: Reduced research times thanks to automated provision of archived invoice documents (keywords: tenant queries, view of documents)

End user
Utility statement department

Technical requirements
SAP® ERP 6.0

at least EhP2

RE-FX Subapplication SC01 active

Please contact us:
PROMOS consult Projektmanagement,
Organisation und Service GmbH
Rungestraße 19
10179 Berlin-Mitte
Germany
to the contact form