ProPotsdam GmbH
mySAP™ All-in-One industry solution PROMOS.GT for the real estate industry
managed housing stock, associated companies included: 18,500 (2003) – 23,000 (2000)
number of employees associated companies included: 165 (2003) – 350 (2000)
SAP®-user since 01/01/2001
SAP®-version 4.6C
mySAP™ All-in-One PROMOS.GT
Jörn-Michael Westphal: We didn't have much time for system change because we had to drive the reorganisation of our company and were under substantial financial pressure. A detailed selection process of suitable partners for the SAP® integration and full service was the basis for the prompt realisation. From where we stand today we are convinced that we chose the right industry solution and experienced consultants.
The development and installation of a company's data model was an essential objective of the SAP® implementation. Establishing the high integration of data from all aspects of the real estate business, called for comprehensive and detailed analyses, research and sound experience. Today we have a widely automated, steady and meaningful reporting system for our meetings with committees, shareholders and banks.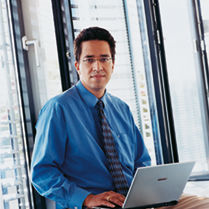 Jörn-Michael Westphal
commercial CEO of the PRO POTSDAM GmbH
"This investment was certainly worth it. With the migration to SAP® we launched a large number of optimisation projects in our company and were able to exploit the benefits of SAP® for our rapid reorganisation."