Portfolio No.: 9700-01
Subject: Workflows
easysquare workflow
Control processes intelligently and easily
Around two thirds of all business processes in German companies are out of the control of IT departments. For example, business cases are listed in tables, which are then exchanged by email. ERP systems, such as SAP®, are frequently ignored. This failure was attributed to the ever increasing speeds at which business processes have to be adapted.
With easysquare workflow, you can control your processes in SAP® intelligently and easily – with a clear and intuitively operable application that adapts to your processes. The process control with easysquare workflow allows editing of entire business processes, even across multiple applications. The various business processes are arranged clearly and in a user-friendly manner in the operation-oriented process landscape. The individual subtasks can be assigned to employees and the order and duration of the tasks specified and centrally monitored in the Process Cockpit. This requires the processes to be worked on in a structured manner and creates a transparent overview of the current work progress.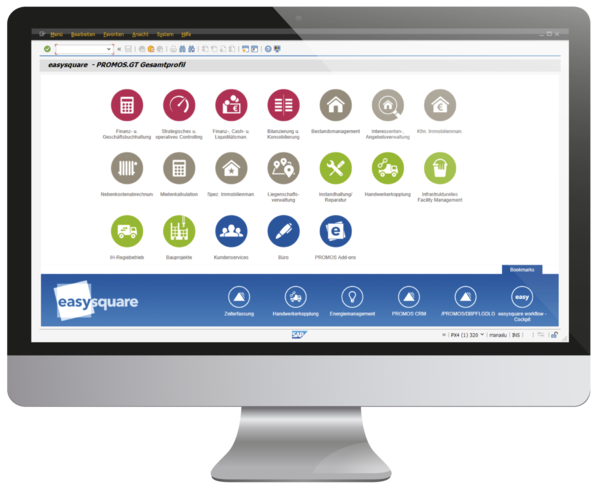 The Process Cockpit – An overview of the statu
The individual work steps are integrated into the SAP® interface. On the left, users see the individual steps highlighted in colour. On the right is a checklist for the process step, from which it is possible to switch directly to the relevant SAP® function. The key data for the process is shown at the top. Users work with their familiar SAP® program, but in a simpler, more process-oriented view. The imagery of icons allows a simple handling. Users find their way instantly
The personal work basket – The central overview of all processe
Numerous functions support the user. The work basket shows all new tasks at a glance and sorts them by urgency and deadline. The icons are easy to understand. Further functions, for example to automate individual steps, are also available
CRM with ticket system – Systematically process customer inquirie
The CRM ticket system enables companies to restructure all of their business cases to fit a fundamentally customer-oriented process view. All customer processes have a unique ticket number, which is retained for all sub- and parallel workflows. They are easier to trace and more streamlined
Integration of mobile processes – On-site with the easysquare ap
At the same time the process cockpit is an interface to the easysquare platform and to the mobile processes. SAP® data is written in digital forms and transferred to the easysquare mobile app on the mobile device. Here, users can receive forms on site, edit them and send them back to SAP®.
Further information
Workflow steps: Easy set up by dedicated customizing
Agent determination: Automatic agent determinatio
Substitutes: Handle substitutes in the same way as SAP® Business Workplac
Cockpit: Information system (ALV) to select, sort and filter workflows, mass processing and calling transaction
Release-Tool CARL (Cross Application Release): Automatic release in processes using stochastic model
Chained workflows: Parent/child and consolidated status tracking
Object services: Using object services in workflow
Split screen: Split screen for document presentation in workflow steps
Change log: Change log for work items
Extractor: Extractor to connect data warehouse systems
Your benefit
Simplicity: Users are guided through the busi-ness processes. They work with a gra-phic, easy-to-understand user inter-face. Usage is more intuitive and employees can be trained more quickly. Operating errors and incorrect entries are avoided and data quality increases.
Standard-compliant SAP® add-on: Easysquare is certified for integration with SAP NetWeaver®. You benefit from a quicker and easier integration into SAP solution environments as well as improved interoperability with SAP® applications.
Flexibility: A multitude of business cases are supported with a single technical solution, e. g. approval processes, invoice runs, repairs processing, ticket system etc.
Video clip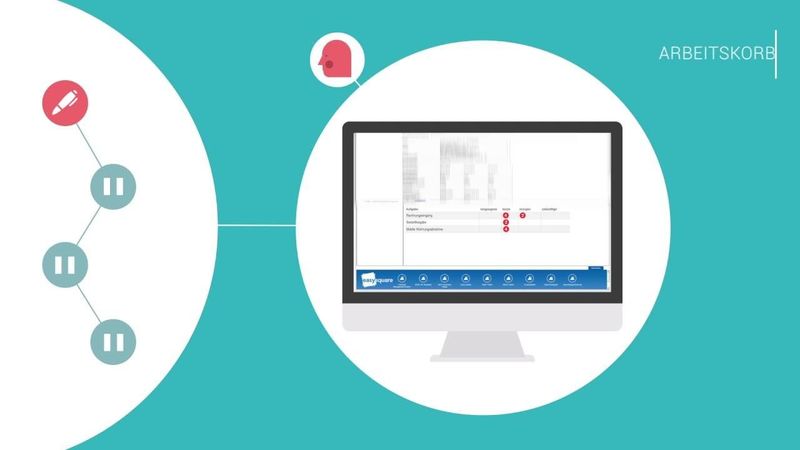 End user
Case handler
Customer advisor
Accountant
Technical requirements
Easysquare workflow runs in the own namespace on SAP NetWeaver® ABAP-Stack from Release 7 on.
Please contact us:
PROMOS consult Projektmanagement,
Organisation und Service GmbH
Rungestraße 19
10179 Berlin-Mitte
Germany
to the contact form